It Was a Mad Day
By
Rohan Payyavula
, Class : V, School : SM shetty intelanational sehool and JR coledge
July 24, 2014
Chapter 1 - The Start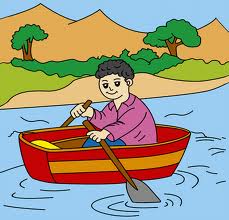 In the nineteenth century there was a boy named Sam. He had spiked hair with blue sparkling eyes, a short nose, clean teeth and a small mouth. He was thin and he could run at the speed of a leopard. He had a fluffy dog with clean teeth and a tiger claw.
One fine day, Sam was going to the forest.
He wore an orange backpack on his back. He took with him his water bottle. He also took his dog for company. He was going to a lake. He went in a boat. He paddled so hard that he got tired. He closed his eyes and slept. After some time his dog barked. He got up and saw something which was very sharp, coming near the boat. When it came nearer, he found that it was humongous.
Could they fight with that humongous thing? Find out in the next episode.